From Montjoie Castel to Sainte-Trinité church
Originally, the castle of Montjoie
In the twelfth century, the House of Faucigny reigns over the province of the same name, at whose southern end lies the Montjoie valley. The valley is at the time a frontier with the County of Savoy, in possession of the Tarentaise, which explains the construction of a defensive fortress there, the castle of Montjoye.
The Grande Dauphine Béatrice (1234-1310), an exceptional ruler, left a lasting impression on the valley, to which she was deeply attached, as evidenced by her motto: « Montjoye is my joy ».
The franchises and lodgings (concessions) of the mountain pastures that she assigned to her subjects allowed the valley to develop and prosper. A text of the Grande Dauphine mentions for the first time, in 1277, the castle of Montjoye and designates under the name of « La Contamina », from the Latin word condominium, the surrounding domain as a direct dependence of the castle.
In 1355, Savoy takes possession of Faucigny, at which point the castle loses its strategic importance and gradually falls into disuse.
The census of 1561 records, at « La Contamine », now the main town, the presence of only 3 families, counting 15 people altogether, compared to more than 1,000 spread across the other hamlets.
The Church of the Holy Trinity
The parish of Contamines did not emerge until 1760, after an interminable trial which eventually accorded the inhabitants of the « District on high » the right to constitute their own parish, distinct from that of Saint-Nicolas de Véroce.
The construction of the Contamines church goes back to the years 1758 – 1760, towards the end of the Baroque period. It was entrusted to the Piedmont mason Domenico Gualino, from Val Sesia. The parishioners themselves financed the work, helped by external donations from wealthy traders native to the valley, who had left as simple peddlers and made their fortune in Germany or Austria.
The first mass was celebrated there on September 28, 1760 and the consecration of the church, dedicated to the Holy Trinity, took place on July 19, 1766, during the pastoral visit of Bishop J.P. Baud, Bishop of Annecy.
The bell tower was raised in 1776 but its remarkably fine spire with was only put in place at the beginning of the 19th century. The presbytery dates from the same period. A cemetery surrounding the church remained until around 1960.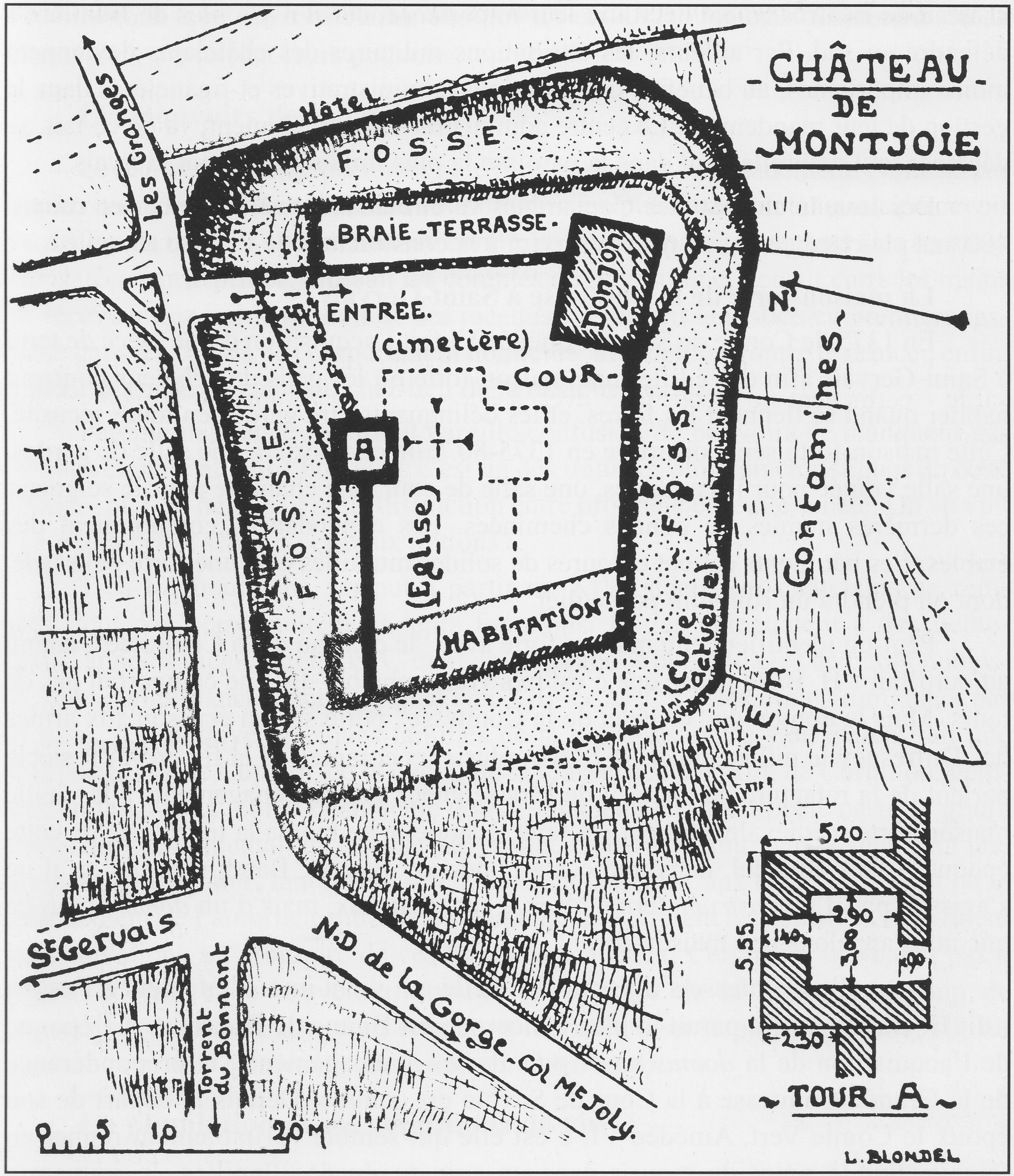 The plan shows the position of the castle and the current church. Some of the foundations of the church resemble those of the castle and the masonry of the lower part of the bell tower is that of the old North tower of the castle.
Contamine is to become, in time, "Les Contamines", chief village of the parish and of the commune. The latter takes in 1945 its current name: "Les Contamines-Montjoie".